Wednesday, April 22th, 2015
IMTC EMEA 2015
Istanbul – May 25-27
REGISTRATION:
• In US DOLLARS
• In EUROS
• Conrad Istanbul Hotel
• Trade Fair
• MTBIT – Blockchains
• MTCC – Compliance
• SPONSORS
IMTC WORLD 2015
Miami Beach – Nov 9-12
REGISTRATION:
• Opens July 1st
• Eden Roc Hotel
• Trade Fair
• MTBIT – Blockchains
• MTCC – Compliance
• MTSC – Remittances
Latest tweets
•   Apr 21, 2015 – 3:39 pm
We're inviting #Bitcoin companies to showcase at #IMTCEMEA2015 – via @CryptoCoinsNews ow.ly/LpnyL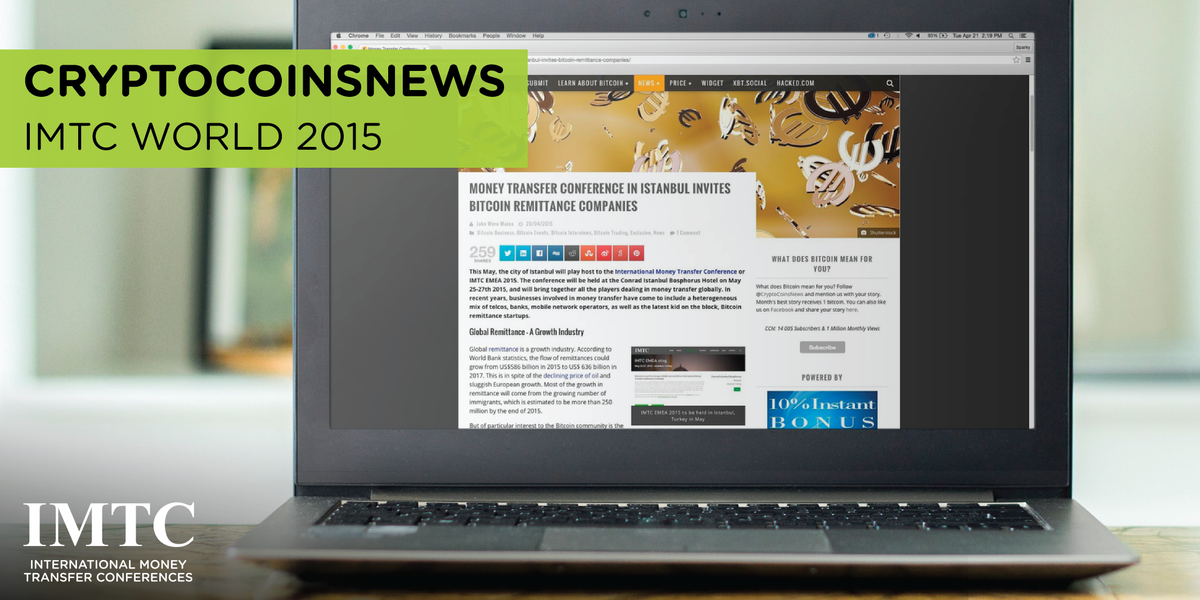 •   Apr 21, 1:04 pm
#Uzbekistan, where remittances total 11.9% GDP, might see a 30% #remittance drop in 2015, down 16% already in 2014 ow.ly/LULlP
•   Apr 21, 12:12 pm
#Kyrgyzstan 2nd most remittance-dependent country 32% of GDP, might see 23% #remittance drop in 2015, down 1% in 2014 ow.ly/LULkb
•   Apr 09, 2015 – 3:26 pm
If you register for #IMTCEMEA before May 4, you can save $100 on your #IMTCEMEA 2015 pass! buff.ly/1y1r85Z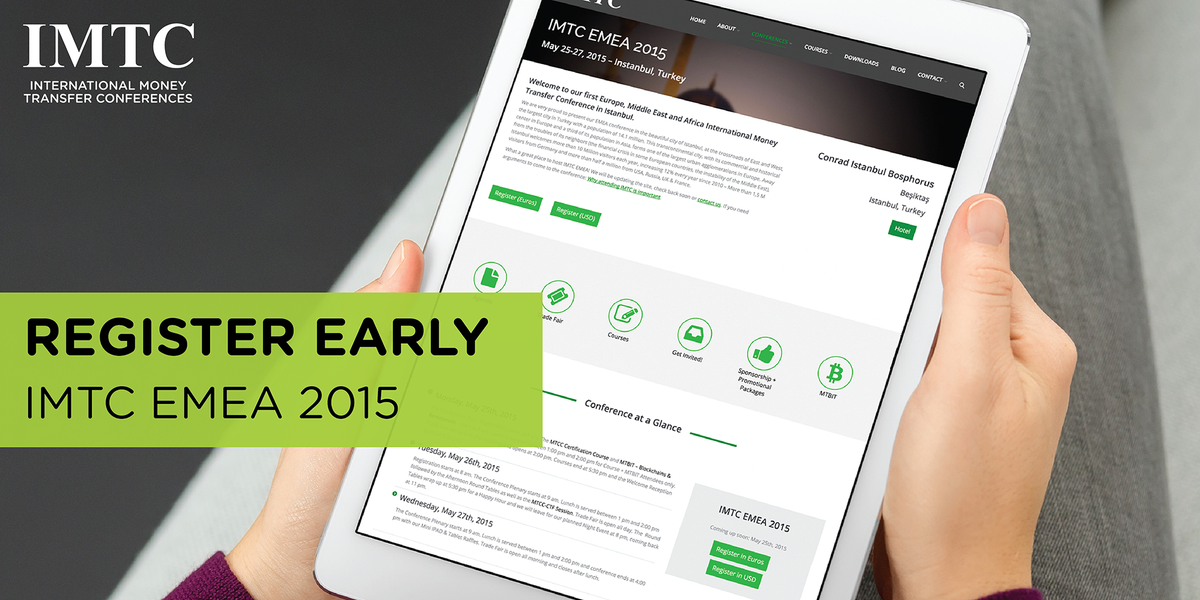 THE IMAGE OF THE MT INDUSTRY
Is "MT fee bashing" a good argument to raise VC funds for MT start ups?
All of us in the MT industry, and I am sure you too *|FNAME|*, have come across articles and interviews where the MT Industry is blamed for price-gouging, brutal fees, etc. And I am not talking about the 2000-2005 fights to get the major MTOs to disclose the foreign exchange fees or the efforts of the World Bank to open "closed" markets, a product of exclusivity agreements, the 5×5 initiative or the posting of remittance prices to increase competition.
I am talking about this type of newer statements:
"avoid being gouged by brutal costs when sending money accross borders"
"has [MT Industry] allowed consumers to be hoodwinked into paying huge hidden charges for services"
"remittance services have never been known for great customer experience. Here's why: First, they're expensive"
And with this type of statements new companies are raising investment. But, are they going to be able to deliver cheaper fees?
CONFERENCE IN ISTANBUL MAKES NEWS IN THE BITCOIN WORLD
The Money Transfer Industry invites the newest kid in the block

From this article in Cryptocoinsnews.com by John Weru:
"of particular interest to the Bitcoin community is the focus that IMTC 2015 gives on digital payments. The first day of the conference will feature MTBIT with the theme "Blockchains and Remittances." Bitcoin companies will be invited to showcase their remittance products and services, as well as network with other market players, in a bid to develop and integrate the global remittance market."
In the interview:
What would you say is the theme of the Istanbul conference?
The major theme is the challenges and opportunities in the Remittances or International Money Transfer Industry. It is a business conference where delegates meet, network, share their knowledge, develop partnerships.
Do you foresee rebittances [Bitcoin Remittances] completely disrupting the global remittance market?
"Rebittances will move in, will disrupt corridors provided that the Bitcoin firms do a good job partnering with existing rails…"
SHOWCASING LEBANON
Remittances to Lebanon increased by 13.2% in 2014

Remittances of Lebanese expatriates increased from USD $7.86B in 2013 to $8.9B in 2014, up 13.2%. The World Bank attributed the increase in remittances in part to those sent to Syrian refugees in Lebanon by their relatives abroad. The increase is lower than the 16.8% increase from 2013 to 2014 ($6.73B to $7.86B in 2013). Lebanon had the second-highest growth among the 15 largest recipients of remittances in developing countries in 2014, behind only to Pakistan, which saw 16.6% increase.